Syrups (750mL Barista Edition): Case of 12
Regular price
$156.00 USD
Regular price
Sale price
$156.00 USD
Unit price
per
Sale
Sold out
Wholesale: Case of 12 bottles of natural, preservative-free syrups for your coffee shop, store, or bar!

Flavor Options: Algerian Baklava, Indian Gulab Jamun
Algerian Baklava: An ALGERIAN TWIST ON A POPULAR DESSERT, THIS BAKLAVA INSPIRED SYRUP BRINGS NOTES OF ORANGE BLOSSOM AND HONEY.
INGREDIENTS: WATER, SUGAR, ORANGE BLOSSOM BUDS, CINNAMON, HONEY
Gulab Jamun: INSPIRED BY THE POPULAR INDIAN DESSERT, GULAB JAMUN, THIS SYRUP BRINGS NOTES OF CARDAMOM, SAFFRON, AND ROSE TO WHATEVER YOU WISH!
INGREDIENTS: WATER, SUGAR, CARDAMOM, SAFFRON, ROSE PETALS
Unit pricing:
$12/375mL bottle
$13/750mL bottle
Share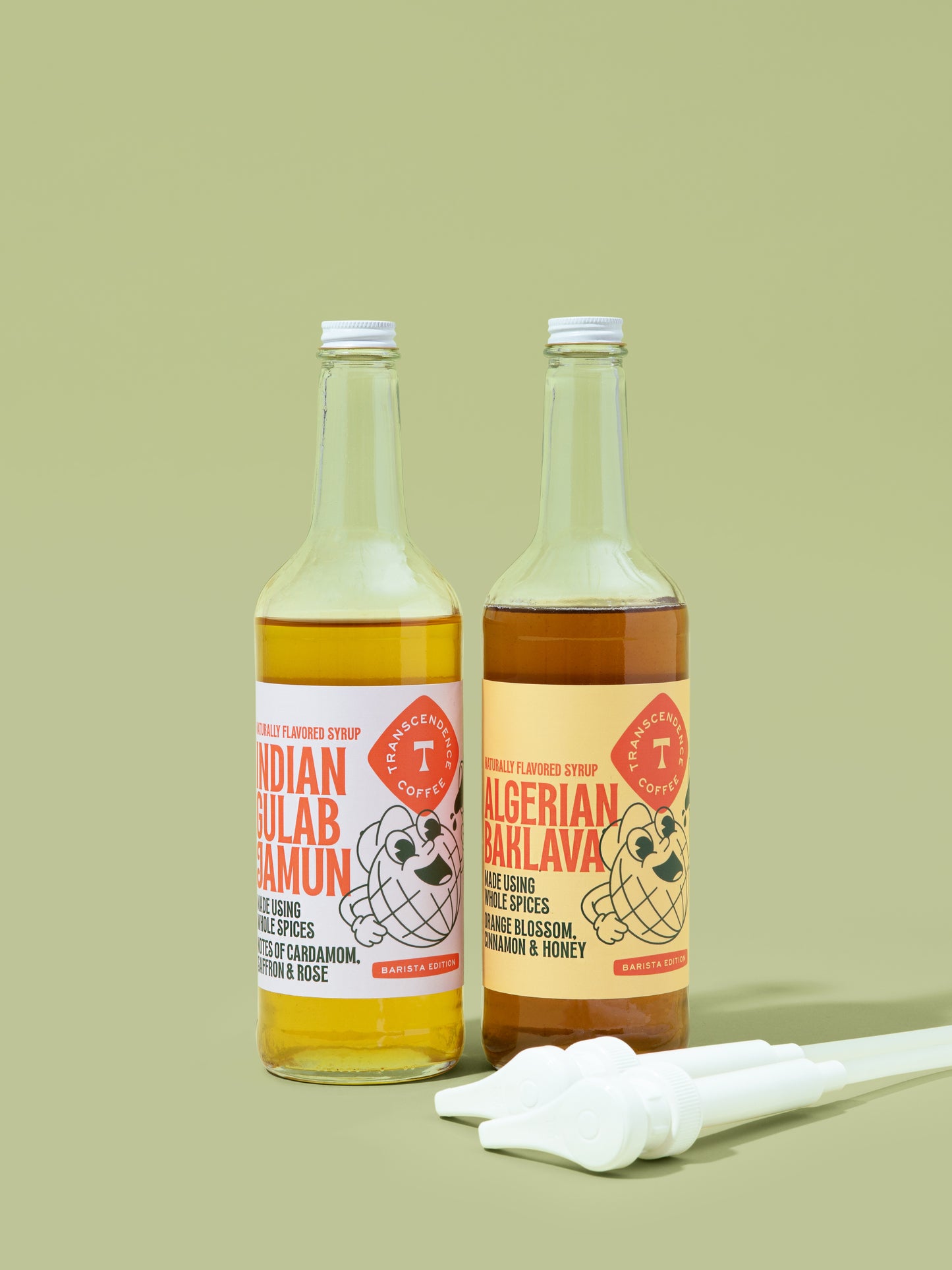 Transcend your coffee experience
How do I use your syrups?

We recommend 2-3 tbsp in your latte, drip coffee, or however you prefer your caffeine, but the possibilities do not stop there! Transcendence syrups can be used in your desserts and rumor has it, espresso martinis👀
Do I need to refrigerate your syrups?

Yes! We recommend refrigerating our syrups after they have been opened to ensure the longest shelf-life.
When can I expect my order?

We ship out orders at the end of every week. Once shipped, your coffee and syrups should arrive in 4-6 days.